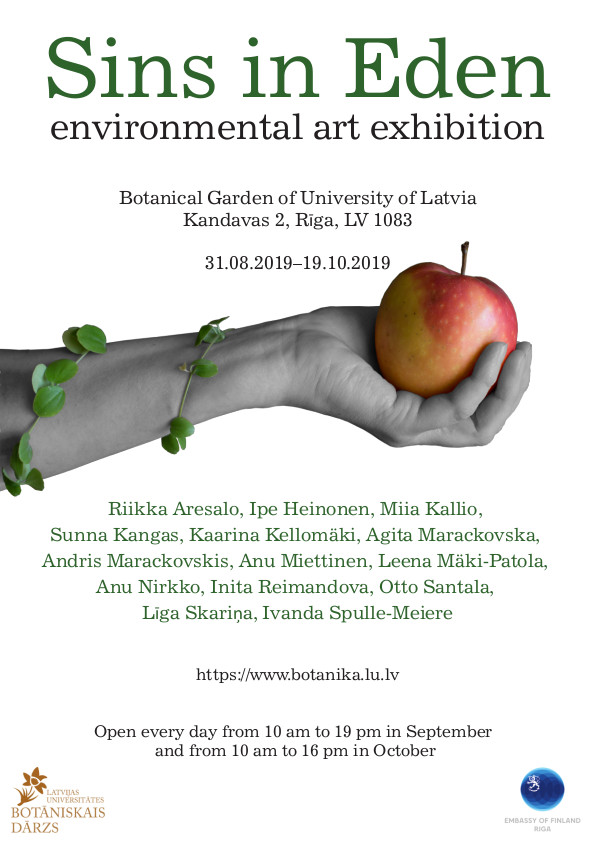 Press release
Finnish-Latvian environmental art exhibition in LU Botanical Garden 2019
The Garden Group organises environmental art exhibition in the LU Botanical Garden on 31th August – 19th October 2019. The works are on display in the greenhouses and the surrounding garden. The exhibition has been implemented in Finnish-Latvian cooperation.he LU Botanical Garden Riga has been established in 1922 and it is located in this area from 1926. It is a unique and historic meeting place where the whole cycle of life from a seedling to a withering leaf can be observed. The works communicate with the space and plants around them.
The theme of the exhibition is Sins in Eden. The name refers to the environmental problems of today, greenhouse effect and the pollution of the nature and as well as to cultural historical myth of the beginning of man.  The media used by the artists include sculpture, ceramics, drawing, photography, textile work and installition.
The following artists participate in the exhibition: Riikka Aresalo, Ipe Heinonen, Miia Kallio, Sunna Kangas, Kaarina Kellomäki, Agita Marackovska& Andris Marackovskis, Anu Miettinen, Leena Mäki-Patola, Inita Reimandova, Anu Nirkko, Otto Santala, Līga Skariņa and Ivanda Spulle-Meiere
The Garden Group consists of professional artists whose work is focused on environmental art. The members of the group represent the variety of the visual art field. The diverse media and materials used in the exhibition open new ways to look at and to interpret the theme of the works. The Garden group has organized several environmental art exhibitions in Finland and in Estonia. The Garden Group has organized exhibitions in 2008 and 2009 in the greenhouses of the Kaisaniemi Botanic Garden, Helsinki, Finland. In 2009 and 2011, the exhibitions took place in the Tallinn Botanic Garden. The Garden Group organized two environmental art exhibitions in the summer of 2014. These exhibitions took place simultaneously in the Helsinki City Winter Garden and the Tartu University Botanical Garden in Estonia. The University of Latvia Botanical Garden Riga and Finnish Embassy in Latvia are the partners of the project.