Image by Tapio Rantala (2012).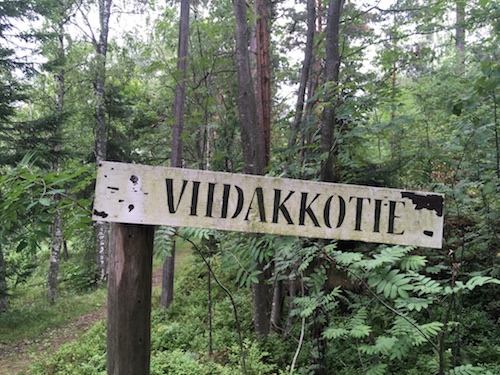 Image by Anu Miettinen (2018).

Visual artist Anu Miettinen tells about her artwork in the video. Polkukyltit / The Path Signs community environmental artwork, 2018 from Anu Miettinen on Vimeo.
The Path Signs – community environmental artwork in Vartiosaari 2012- 
There are no spesifically named paths in Vartiosaari, nevertheless residents of Vartiosaari and regular visitors may use orally established path names. Some visitors in Vartiosaari might get lost easily and often do because of the rambling paths which are not named. Vartiosaari seems to be bigger than it is in reality, because of the different biotypes and changing terrain. The paths in Vartiosaari got names which residents and regular visitors have suggested. Artist Miettinen undertook "name collecting journeys" which means that she made interviews about the names during the summer and autumn. The Path Signs are made from hay sticks and from vaner. The used font model has got its style from the old Helsinki street signs. The Path names tell us about practical things, about hints of contemporary time but also about past time. As an honor to the oldest person living on the island, one path has been named as Edit´s path. The art work is implemented as a community artwork.
The idea and coordination by visual artist Anu Miettinen.
Sponsored by Stark Helsinki Herttoniemi in 2018. Sponsored by Tikkurila Oyj in 2012. Thanks to residents and regular visitors in Vartiosaari and in addition to Jukka Ahola, Ipe Heinonen, Aliisa Koivisto, Anu Nirkko, Otto Santala, Elvira Nuri, Jaakko Thornberg, Ossi Kajas and Juhael Manninen and Tapio Rantala.